2012
Surgical mesh costs millions
By Chloe Johnson
6:30 AM Sunday Sep 30, 2012

Hundreds paid ACC compo for pain and suffering after surgery goes wrong.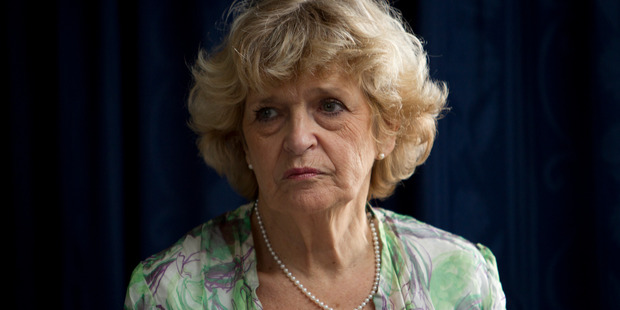 Heather Anderson has been in severe pain for years after surgical mesh was implanted in her abdomen. Photo / Kellie Blizard

A surgical mesh that is the subject of international lawsuits and health warnings is still being implanted in hundreds of New Zealanders.

The mesh is often used for hernia repairs and prolapsed pelvic organs and muscles, despite ACC paying $3.1 million in treatment and compensation to people with post-surgical complications.

Heather Anderson has been in pain for eight years since the mesh was implanted in her lower abdomen.

She said it was like a cheese grater cutting through her internal organs.

In the US thousands of women complained of severe pain, infections, excessive bleeding and organ perforation.

The Food and Drug Administration revealed women had died from complications after mesh surgery for prolapsed pelvic organs.

In New Zealand, there have been 600 ACC claims since 2008. Of those, 389 have been accepted. The injured patients have been paid compensation, as well as large sums for treatment and rehabilitation.

Anderson, of Auckland, had mesh surgery for a hernia on her lower abdomen eight years ago. She said the mesh was wrongly placed under her breasts, causing her to vomit several times a day.

Anderson, 61, said she had excruciating pain because the mesh was too tight. She had another operation to loosen it but still had complications, including pain, discomfort and difficulty breathing.

Anderson's complaint to the Health and Disability Commission was dismissed, but she is seeking compensation through ACC.

Mary, a nurse in Wellington, had mesh implanted five years ago after her pelvic floor muscles collapsed. A month after surgery she could feel pain and something pulling on her organs. She had nerve pain in her legs, bowel pain and spasms. She also had severe incontinence that stopped her from socialising or playing sport for years.

Mary said she was not warned of the possible complications and risks. She has sought legal advice and is seeking physical and emotional compensation.

Sue, of Tauranga, had surgery for severe incontinence 10 years ago. She said the mesh perforated her scar tissue after two months, causing pain and discomfort.

Sue, 57, had another operation to fix the ripped tissue. But last year she got whooping cough which caused further complications. She has incontinence each day.

Jenny, 55, of Waikato, had mesh implanted last year to fix a prolapsed uterus. Within days after the surgery, major complications began. Her feet swelled so badly she has gone up a shoe size and can no longer stand for long periods.

She has bowel complications and said it felt like something was tugging against her organs. An ACC claim was turned down because her complications were considered a "consequence of the operation".

Paul, 50, had a hernia repaired in his abdomen in 2009. Surgical mesh supported the weak tissue but complications began in hospital. Fluid built up around the wound and a second lump appeared, which he suspected was the mesh bunching.

Paul said he was not well informed about the use of mesh. He complained to the Health and Disability Commissioner.

In May, Johnson & Johnson - one of the providers of surgical mesh - withdrew five products from its Gynecare range in New Zealand, amidst legal action involving products overseas. Bloomberg News reported Johnson & Johnson faced 600 claims from US patients.

Johnson & Johnson spokeswoman Donne Newbury said the removal of the products was not related to safety issues. "Our decision to discontinue these kits was based on their commercial viability in changing market dynamics and were not related to safety or efficacy."

Medsafe compliance management manager Derek Fitzgerald said investigations into reported complications found the product was not harmful when implanted correctly.

He said the investigation used material from Australian and New Zealand specialists.

A lost year of life

Monique Knox feels she lost a year of her life after a gynaecologist botched up her surgery.

The 57-year-old office administrator underwent mesh surgery four years ago to fix her prolapsed pelvic floor muscles. During the four-hour operation, the gynaecologist "nicked" her bladder and punctured her bowel with a finger, she says.

Six months later, she felt like her organs had prolapsed again so she went back to the gynaecologist, but was told she hadn't prolapsed.

She had "a horrible couple of years", losing her father and being made redundant so it "went on the back burner," Knox said.

But after three years of stomach and back pain she went to see another gynaecologist, Hanifa Koya, who found her bladder was severely infected and Koya could feel the mesh bunched inside her body.

A scan revealed the mesh had been wrongly placed inside her bladder. Eight months ago she underwent a 12-hour operation to have it removed. The surgeon also "hitched" the prolapsed muscles into place using conventional methods and performed a hysterectomy.

She must wait at least another four months before she can attempt to pick up her newborn grandson or go back to the gym.

"I've lost a year. I feel fragile and I'm scared of anything going wrong again."

Knox has laid a complaint with the Health and Disability Commissioner against her original gynaecologist. That specialist is already the subject of an adverse HDC finding for failing to provide post-op care to a patient who subsequently died.

Mesh errors 'common'

Gynaecologist Paul Macpherson says he repairs at least one mesh-related surgery error each week.

Surgical mesh was a controversial product and comes with risks and warnings. But Macpherson, a member of the Royal Australian and New Zealand College of Obstetricians and Gynaecologists, supports the ongoing use of mesh to repair severe or recurring tissue weakness.

Macpherson said the way the mesh was implanted into the body could cause complications.

"If it is too close to the bladder it will irritate it. If mesh is put in too tight it will stay there. It is a difficult operation to do and best done by people who have undergone training and have done a reasonable number of them."

He said only about 10 doctors in New Zealand were trained to operate with surgical mesh and there were strict guidelines on who could use it.

Wellington gynaecologist Hanifa Koya said she was against the use of mesh due to a lack of research and non-stringent regulatory processes. She said medical products, apart from drugs, were often put on the market without comprehensive testing.
By Chloe Johnson | Email Chloe
http://www.nzherald....jectid=10837440
February 2005
Federation of Women's Health Councils
17 Weenink Rd
GREYMOUTH



Health Committee Secretariat Parliament Buildings, Wellington



SUBMISSION: INJURY PREVENTION, REHABILITATION, AND COMPENSATION AMENDMENT BILL (NO 3)

Organisation background:
The Federation of Women's Health Councils Aotearoa (FWHC) is a national umbrella organisation of women's health councils, women's health centres arid individual women throughout New Zealand P is a consumer based NGO. The Federation has a commitment to providing a powerful voice for women consumers of health, disability arid social services and to act as an advocate for them. Representing the views of women on matters affecting their well-being is a major junction of the Federation.

This organisation has provided consumer comment on previous versions of the ACC legislation and the medical misadventure provisions and the processes around it.

General Comments
FWHC is especially pleased with the changes that;
do not require ACC to make findings of fault
looks to build a partnership with the health sector in its focus on reducing impact and incidence of treatment related injuries
FWHC has concerns about how resource allocation decisions are differently applied throughout the country and thereby may place patients at variable risk of adverse outcomes.

Explanatory note

Partnership with the health sector
FWHC is generally supportive of the 4 bullet points


Reporting requirements that capture information for injury prevention purpose of ACC FWHC asks:
How will this be done at a provider level? public level?
Numbers/categories of treatment injuries; trends; action taken by ACC to reduce, particularly any increasing, trends at a provider and/or national level?
The public expects transparency in reporting; action when required.
How does ACC intend to interact with the health sector in quality and learning initiatives and how will this be reported?
Will ACC make public the number of cases it refers to the appropriate agency because of the risk of harm to the public?

Amendments to Schedule I of principal Act

Personal injury caused by treatment or treatment injury
Clause 13
"S 32 "(1) - FWHC agrees with this definition

Personal injury caused by treatment or treatment injury not included
S 32 "(2)
These exclusions, while appearing reasonable, have the potential to turn some/many straightforward complaints into difficult ones, depending on the attitude taken by ACC as the insurer/compensating body, the clinical opinions it seeks and the basis on which they are sought.

"(2)"(

Anticipated part or consequence exclusion



FWHC has concerns that this provision, as it stands, could be interpreted a requiring a nil anticipated risk ratio for surgery. Many surgical procedures do have some (not uncommon) degree of risk of adverse outcomes, such as when an adjacent organ is nicked by a scalpel, or a nerve is severed, albeit unintentionally.

"(2)"©

Resource allocation decision


Under the current Act the related section reads

Medical error does not exist solely because............. The failure in question consists of
a delay or failure attributable to the resource allocation decisions of the organisation.

FWHC has grave concerns around the impacts of issues arising around resource allocation decisions, as referred to earlier. If we use the current example of Christchurch Women's, and their publicly reported statement(1) regarding elective services:
gynaecology, that only those deemed urgent will be assessed for FSA, women with LSIL smear results who are supposed to be seen within 6 months are not going to be seen.

If this is the case, that is an inappropriate decision which must surely fit under s"33"(l)"(h) which includes policies, processes, practices, and administrative systems as treatment.
How does ACC plan to deal with the different treatment thresholds around the country?

How does this sub-section mesh with "33 "(1 )"(d) - a failure to provide treatment, or failure to provide treatment in a timely manner? Who will decide what is timely - the different and changeable thresholds suggest this is a moveable feast!!

what if the assessment (for FSA and/or treatment) fails to consider/incorrectly weights/manipulates key clinical factors because of resource allocation issues?

Treatment
S "33"(l)"(a) and"(


FWHC observes this definition doesn't specifically address screening of asymptomatic people - for example, where the screen test may be misread or referral for further assessment or diagnosis does not occur - as screening tests are not diagnosis.

"(d) needs to be

rewritten to read

-a failure to provide treatment, or a failure to provide treatment in a timely manner

"(e) needs to be rewritten to better reflect consent issues as an integral part of treatment. I In tile current Act, Medical error can arise in any of the following....

Obtaining consent to treatment from
The person to whom the treatment is being given; or
The person's parent, legal guardian etc

FWHC asks if the issue is around failing to obtain consent altogether or failing to provide sufficient information to make a fully informed decision, as well as dealing with the situation where a person does not have legal capacity.

(f) prophylaxis is not defined in the Bill or the current Act - this possibly needs to be.

Date of suffering treatment injury
Clause 14
S "38"(l) will this section accommodate the screening of asymptomatic people where there has been a failure to read the result accurately?

Time for making claim
Clause 16
(4)(a)(i) the date that the personal injury was diagnosed as being a treatment injury - is diagnosed the right word? what if we have another Gisborne Inquiry?

Reporting of risk of harm to public
Clause 38
New section" 284
why is "(1 )"© referring to medical misadventure? Is that to take into account the transitional period?
Barbara Beckford & Barbara Robson
Co-Convenors
Federation of Women's Health Councils
24 September 2004

Federation of Women's Health Councils Aotearoa Ph +64 3 768 7505 Fax +64 3 768 5095 fedwhc@xtra.co.nz


(1) The Press p1, Wednesday August 18, 2004 "Waiting-list ills hurt women